My name's Hynx
pronounced like "hinks"
-
He/They
-
Click to view my characters
---
Most of my art posts are scheduled tweets. If I do not reply to you it is most likely because I'm not around!
I do not reply to small talk unless I know you. Please open with the purpose of your dm or I will likely ignore it.
-
Please ask before using my art as pfps/headers/etc. Always be sure to give credit too. You cannot use commissioned art unless the commissioner and I agree.
Don't repost my art unless you are the commissioner or have permission from me.
-
Do not make any of my art into NFTs or AI.
---
Commissions
Examples can be found in gallery
---
Accepted Payments
✓ Ko-fi
✓ Square
-
Other Payments
? Paypal (Temp Unavailable)
? Steam Gift Cards (Unlikely, Ask First)
? Discord Nitro (Acceptable closer to 2024, small comms only)
Prices are in USD.
---
Character Complexity
An extra charge of 10-30% may apply to characters with big wings, many markings, complicated clothes, etc.
Feel free to ask about this.
Examples may include FFXIV outfits and LoL characters.
---
General shot guide
---
No Shading
Turn around time: 1-2 weeks
---
Headshot
$10.00
Half-Body
$15.00
3/4th-Body
$20.00
Full-Body
$25.00
---
Normal Shading
Turn around time: 1-3 weeks
---
Headshot
$15.00
Half-Body
$25.00
3/4th-Body
$30.00
Full-Body
$35.00
---
Experimental Rendering
Turn around time: 2-4 weeks
---
Headshot
$30.00
Half-Body
$45.00
Includes a simple background unless requested otherwise
---
Reference Sheets
$70.00
Turn around time: 3-4 weeks
---
__Reference sheets include__:
Text Info
Color Palette
2x Full-bodies
1x Headshot
2-4x Extras (eyes, paws, maws, etc)
As many edits until you are happy/the commission is complete
*All characters in the ref sheets will be unshaded. You may request shading or more shots for an extra charge. *
---
Emotes/Stickers
$10.00
---
Animated
when I'm not a complete beginner
---
Backgrounds/Props
$2.00-$15.00
Backgrounds may add additional turnaround time
---
Simple backgrounds like flat colors, simple designs, or dialogue are free upon request.
---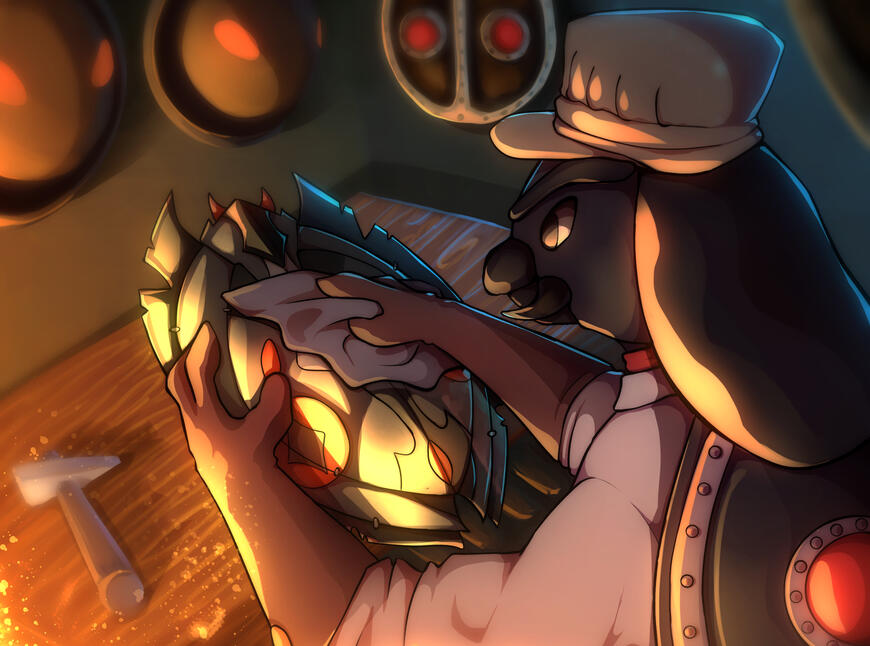 The more detailed and immersive a background or prop is the more it will cost.
Keep in mind I don't have much experience with making proper backgrounds but I will try my best.
No detailed city/building BGs yet.
---
Contact
---
---
BE SURE TO FILL OUT A FORM
(Or DM me with the answers to each question in the form if you prefer that.)
---
Click on an option below
---
Thank you for your time!
---
TOS
---
By commissioning me, you agree to the following ToS. My ToS is here to help us be on the same page, so please read it.
Last updated: 4/16/2023
---
| Will Draw | Might Draw | Won't Draw |
| --- | --- | --- |
| Creatures/Animals | Humanoids | Ultra-Detailed Backgrounds |
| Anthro | Suggestive/NSFW | Weaponry/ Machinery/ Detailed Robots |
| Horror/Gore | Semi-Detailed Backgrounds | Logos/Tattoos/Fanart |
TERMS OF SERVICE:
By commissioning me for ANY art you agree that you are age 18 or over. I do not accept commissions from minors due to safety reasons. The only exception to this is discord nitro commissions.

I will not emulate specific styles, especially of other artists. That being said if I have done something in the past that you enjoyed we can talk about taking inspiration from that piece to make your commission.

I can decline a request for any reason. Harassing me over a slot will result in a blacklist. Harassing me over the process or excessive changes may also result in a blacklist.

I have full rights to the image. I can post it on social media, show others, share it in my gallery, etc. If you don't want it published or shared, please state so during the inquiry.

Credit me when reposting artwork or sharing it with others. Please only post the watermarked version.

Only myself and the commissioner are allowed to repost commissioned work on social media.

Full refunds will only be given during the sketch stage or if I do not believe I can finish for whatever reason.

You can edit the final product how you'd like, but please still credit me for the original creation. You may not use my artwork for hateful or harassing purposes.

All artwork will be digital.

You may print out or use ONLY YOUR commission for PERSONAL items such as mugs, hoodies, etc. You may not mass distribute or resell. The only exception to reselling is if you are selling the entire character via TH for example.

Using my art for NFTs or AI is not allowed.
Commission Process:
I will begin making a sketch to show you as soon as possible.

Once I send you the sketch and you're happy with it, I will request that you send FULL payment.

I will not continue working until FULL payment has been received.

I will give some WIPs throughout the process to ensure you are happy with the result. If you do not reply in a timely manner I may continue to work on it.

I will offer some changes to regular commissions before it is finished but please do not go overboard. This does not include reference sheet commissions in which I will do as many edits within reason until you are happy.

Once a piece is completed, you will receive the watermarked and unwatermarked full HD version through google drive.

Commissions can take anywhere from 5 days to around 4 weeks to complete depending on the type of commission, amount of commissions, other work, personal stuff, etc. You will be notified if it is expected to be longer than 4 weeks.

Please always feel free to ask for updates if you feel like you need one! I will never get upset at this as long as it's reasonable!
Small Disclaimer:
I am still a learning artist and I do not consider myself to be a professional. There may simply be things outside of my skill range that I cannot execute to the fullest yet. I may experiment with new things during your commission but I will still do my best to make sure everything is still commission quality.
---